ATL Party Bus Weddings
First and foremost, congratulations on your engagement! We here at ATL Party Bus understand how exciting this time is for you as well as how stressful planning can be! That's why we offer wedding services that leave you with nothing to worry about!
Brides and grooms stress over every little detail of the day, from the flowers to the linens to the lighting at the reception, but often times they don't pay the same attention to detail for the limousine. Many think it's as simple as just scheduling a pick up with a vehicle, but it's really so much more than that. There's a lot of limo companies out there, and like any industry, the quality of product and service varies! This is important to know, because you don't want to run into any problems on your wedding day because you chose the wrong company! You don't want a limousine that's dirty, doesn't have feature that work, a vehicle that breaks down, or a company that simply won't show up at all! You also probably want to stay within your budget. That's where ATL Party Bus comes in! We pair high quality limousines!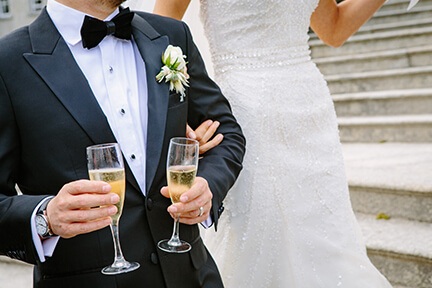 When you choose ATL Party Bus for your wedding day transportation, you'll have no worries. Our vehicles are all luxurious and we keep them incredibly clean! We also have a great team of people who check all the features on board to make sure they're in proper working order, from the TVs to the DVD players to the lighting, to the subwoofers to the coolers and everything in between! We've also got a great team to make sure the engines are in tip-top shape! You'll simply have luxurious transportation! In addition to great vehicles, our services are a cut above the rest. We will be on time for your pick up, and we actually strive to be a bit early for your peace of mind! You'll also have access to our 24 hour customer support if you have any questions or concerns at any point.
Perhaps what our clients love most about our great vehicles and reliable service, is that our prices don't break the bank! We keep our prices as low as possible so that you can enjoy quality luxury services without going over budget! Our services are very accommodating, so whatever you have planned for the big day, whether you want simple pick up/drop off or all night shuttle for your guests, we can get you going!
Our customer service representatives are available 24 hours per day, so call us any time and schedule your wedding day luxury limousine or party bus transportation!