Sweet 16 Party Bus Atlanta
Are you ready to have the most incredible entrance at your sweet sixteen party in Atlanta, Georgia? Welcome to the official website of ATL Party Bus, a prominent luxury transportation company renowned in the metropolitan Atlanta area. Prepare to embark on an extraordinary journey with us as we redefine your expectations of exceptional service and great experiences. And if you want a professional limo service that levels up your sweet 16 celebrations, we are the most trustworthy option for such an important event. Thanks to our detail-oriented approach and the dedication we put in during all of our party bus services, we are perfect for an unprecedented celebration like your sweet 16 parties. Rest assured; we will handle all aspects of transportation logistics with utmost care and precision. Leave the intricate details to us while you focus on enjoying your event to the fullest. We have a wide selection of luxury party buses and the choicest limousine services available for you. But no matter what your final choice is, all of our luxury vehicles are equipped with modern commodities that will grant you a high-quality VIP experience from the exact moment you hop in the limo or party bus rental. With their comfy and luxury seating, state-of-the-art sound systems, dazzling changing-color lighting, and TVs, you will have a blast until you arrive at your destination. Just give us a call to learn more about our party bus services, and we will be happy to let you know via phone the exact price based on the specifications of your celebration!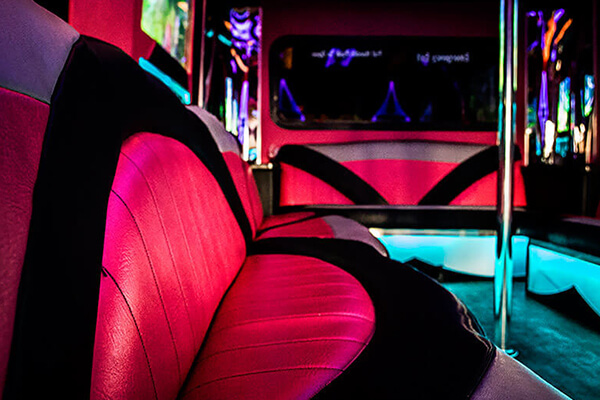 The finest party buses and limo rentals for your sweet sixteen party!
A sweet sixteen party is a unique celebration in the life of the compliment, and we will provide an elegant transportation service that's up to such an exceptional occasion. If you want to have an outstanding sweet 16 party that is remembered as one of the happiest days of your life, our limo service will ensure that all of your expectations and wishes are fulfilled. Even before the special day comes, we will be already organizing every single detail so there are no surprises or delays and all of your plans for your sweet sixteen celebrations become a reality. Among our newest fleet of luxury limousines and party bus rentals, you will find the ideal luxury vehicle that will take you on a fantastic and smooth ride on your big day. But your favorite part will be that, if you want to, you can decorate the interior of the limo or party bus rental so you have a customized conveyance that you will love riding, and it will go with the theme of your sweet sixteen parties. You can either have a personalized sweet 16-party bus or a limousine rental, and it will be so beautiful and comfortable that you can even host an exclusive moving, sweet sixteen party for you and your closest friends. Our only priority is to make our special clients feel like a princess, so the only thing they have in mind during the sweet sixteen party is to shine like a star. We will accommodate your itinerary, so if you are planning a house party after the main event, we can take you back to your home on the luxury rental you choose. Share your vision with us, and watch as we transform it into reality. Your desires and aspirations are our fuel for making extraordinary things happen!
Limo service for all kinds of special occasions in Metro Atlanta!
And remember that you can also have our party bus/limo service for all kinds of special occasions s, inducing weddings, prom nights, birthday celebrations s, and much more. Contact ATL Party Bus for a free quote so we can reserve your special date early to guarantee you have one of our luxury vehicles that better matches your wishes! Experience an extraordinary transformation of your special sweet sixteen celebrations with our exceptional 16-party bus and limo services!
Prepare for an unforgettable journey that will transport your party to new realms of wonder and excitement!