ATL Party Bus Bar Hopping
What could be more fun than a night out in Atlanta, Georgia? Our capital city is the area's cultural center, and is packed full of fun things to do, including some amazing bars and clubs! Atlanta is 134 square miles of fun! And you can enjoy it all when you call ATL Party Bus to transport you across the city for your next bar hopping, night out extravaganza! We have a variety of vehicle sizes so you can call on us for your intimate night out with a handful of close friends or an epic night with everyone you know.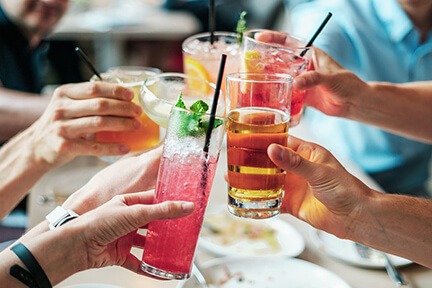 A night of bar hopping is always a fun time, especially in a city like this! But sometimes planning the transportation aspect, especially with a large group, can be such a pain! First you have to find enough designated cars and drivers to transport everyone. Then make sure all the drivers know where to go, where you're going to park and meet at so you don't lose the group. And if you have a long distance to travel between bars, sometimes a long drive with a car full of intoxicated friends can be...a bit annoying. And there always seems to be that one friend trying to sneak a beer into the car. But when you have a chauffeur and one of our vehicles, those issues don't exist!
The perks of an ATL limo or party bus are plenty. To start, we have vehicles of all sizes so no matter how many are in your group, you can all travel together! You'll also have a breeze getting to and from the bars, as we'll drop you off and pick you up right at the front! And because you can drink on board, the celebration never stops! It's also not a big deal if that one friend wants to have a beer on board. And if it's a long distance travel, you'll have fun drinking and relaxing and listening t music or watching movies. It's also worth mentioning that we operate 24 hours, so you can keep the fun rolling even after last call!
We think you'll be pleasantly surprised at how affordable it is as well. Our prices are very reasonable, and if you plan to split the cost among a group, you'll be surprised at just how small the cost is per person! You might even find yourself renting a party bus every weekend! Give us a call to get an exact quote, our agents are available 24 hours per day!