ELC Limos Party Bus For Sale
ELC Limos Designs has the perfect party bus for those looking to invest in something to maximize their company's profit in the great city of Atlanta. This 2013 Glaval Ford F-550 party bus is a luxurious option for all of your clients to enjoy, and they surely will! It has a passenger capacity of 26 people, plus luggage space for those on a long trip. On top of everything else that's positive about this vehicle, it's completely customized from the ground up, ensuring a perfect match with your transportation services!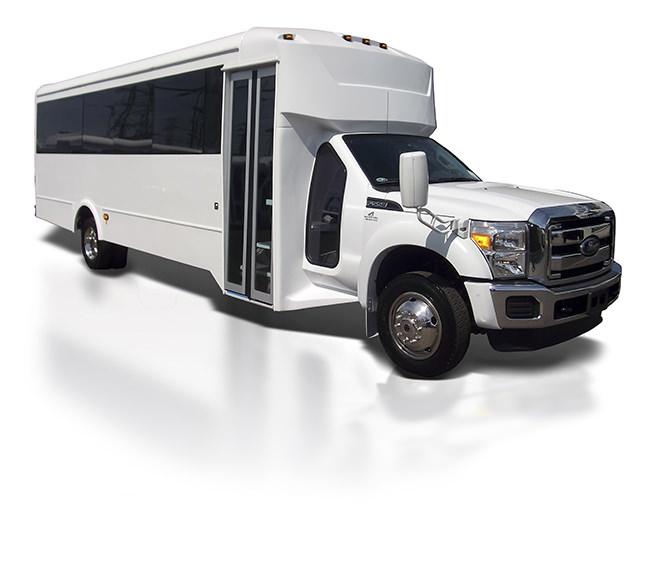 When you buy from ELC Limos Designs, you're reaping the benefits of
Customized vehicles for the perfect match with your company
Tasteful and elegant designs on the interior and exterior
Matching seating surfaces that are vinyl
Convenient controls in the drivers cockpit
Not to mention the party lighting that sets the mood for the night! You'll find even more custom features in our acrylic and LED lighting on the following surfaces inside the vehicle:
Classy ceilings
Handy bar areas for your customers refreshments
Fun dance floors
Ambient walls
Overall light show
Chances are, since you're looking to buy a party bus or limo bus, You have been considering some of the pros and cons. We're here to give you some more things to consider! When money making is involved, you want to be as sure as possible, but there are always risks when it comes to investments! Whether you're looking to buy a used party bus, or you want to make the plunge with a brand new party bus, there are pros and cons to each!
You'll want to consider many things when it comes to buying a used party bus, as the risk is a little higher! The last thing you want to do is buy a vehicle that comes with numerous problems lurking behind the seemingly well-maintained surface. When you buy a used vehicle of any kind, but especially party buses, you want to make sure that the engine and interior parts work as they're supposed to, so be sure to bring along someone who knows about these type of things. Otherwise, you'll be dealing with potential breakdowns, which are among the worst things that could happen to your company! You'll run out of business because you won't be seen as trustworthy, and you certainly do not want that to happen. However, if you make an informed and careful decision, you can find a great used vehicle that will save you money both short and long term.
When you're looking to buy a new party bus or limo bus in Atlanta, chances are you've accepted the large investment because of the benefits that come with it. In fact, if you can get used to the large ticket price of a new party bus, you'll see that the investment might just pay for itself when paired with good business tactics! New buses are reliable and updated with the best amenities for your clients, so you're bound to get good reviews with a newer vehicle. However, if you get into an accident with a newer vehicle, it could be costly, and accidents do happen. Parts for a new vehicle are more costly, not to mention the risks of sending a claim through to your insurance agency, as they might decide to exclude you from their protection, leaving you without a way to make money. However, you'll want to think about how many clients you'll get with a brand new party bus with updated amenities, as word will get out and you are sure to get more business!
That's not all, folks! Here are some more features on this amazing party bus: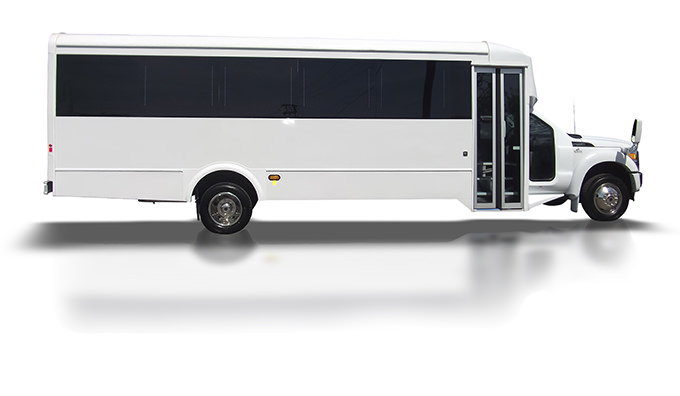 Intense audio system with the following features:
CD/MP3/iPod player capability
Custom built containers for speakers with attractive lighting
3 strong subwoofers
Six 6.5" speakers and matching tweeters for ultimate surround sound
As well as these entertainment goodies:
LED HD Televisions with DVD/Blue Ray Capability
Removable dancing poles
Refreshment amenities... buckets, champagne glass holders, rock glass holders, and bar areas with cooler space
The asking price for this completely custom and updated vehicle is $129,000.00
Please Call 773-877-3060 For More Information!