ATL Party Bus Anniversaries and Date Nights
If you're planning a special night out with your significant other, whether it's a special anniversary or it's the night you want to propose, or if you're just trying to surprise them with a romantic night out, ATL Party Bus can help. We have the experience and expertise to provide quality service for your special night out. We're sure you'll find that our services are surprisingly affordable, so you won't have to worry about going over board while you plan a lavish night out for your special someone.
Just imagine the surprise on your SO's face when a lavish limousine pulls up to take the two of you out to the finest restaurants the city has to offer! Or to any location that means something to you. Our chauffeurs are friendly and accommodating and we are committed to customer service and satisfaction. We want your date to be as special s you do, and we'll work hard to help your vision become reality.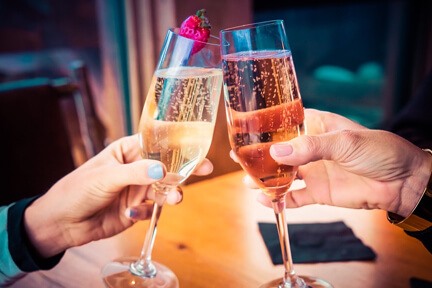 In a city as big as this, there's a lot of culture and night life and places to enjoy good food and live music. The hardest part of planning a special date night around here is narrowing down the list of things you want to do to fit into one evening! Perhaps you'll check out one of the upscale restaurants like Canoe or TWO and then head to a movie. Or maybe you'll schedule a hot air balloon ride or rent a boat if you're into more extravagant experiences. Or maybe something elegant, like sipping champagne and heading to a museum or gallery. There's just endless ideas! The easiest part is knowing that a lavish mode of transportation will add to the romance of the night, whether you're headed down the street or across the state.
Our services are easily customizable to how you want the night to go. So, as mentioned above, you can surprise your SO with a limousine pulling up to take the two of you out. Or maybe you'll wait at the destination and send the limousine to pick them up and they'll travel to the location with an air of mystery. We'll work with you to plan the special evening you have in mind!
We are available 24 hours per day, so call us any time to schedule your vehicle, and feel free to rent at any time! A full romantic day, evening, or late night outing - whatever it is that you're planning, we can accommodate you. We look forward to hearing from you!